Courses
All Loyola undergrads can study abroad
, it just takes a little planning. You'll work with your academic advisor and OIP to help you figure out the best time for you to study abroad, which is usually during your sophomore year. We can help you identify programs where you can find coursework abroad to fit your academic needs.
Abroad Course Types
Our study abroad programs offer courses that can count towards your core, major, minor, general electives and engaged learning requirements. Depending on the program you choose, there may also for-credit service learning and for-credit internship courses.
Most students end up taking a mixture of core, major, minor, and elective courses while abroad, rather than all major-requirement courses.
You must meet with your academic advisor to talk about your study abroad program's courses and how those foreign courses can fit into major, minor, core, Engaged Learning, or other requirements at Loyola. For example, you should discuss how many credit hours you need to graduate, which core courses you still need to fulfill, and whether you need to take any upper-level courses. You also must ask the Loyola academic department(s) housing your major and minor programs for their applicable policies, such as if they have prohibitions on taking certain courses away from Loyola.
Course Approval Process
If you're going on an affiliate or exchange program, you'll be taking that institution's courses taught by their faculty. The semester before you depart, you'll need to get your study abroad courses approved. This means you'll select potential courses to take abroad, submit details on those courses into your Loyola study abroad application, then you'll receive official notification from Loyola what your study abroad courses will count for back at Loyola.

In order to request to have study abroad courses reviewed to determine their Loyola equivalents, first look up the schedule of classes at your study abroad program and download the syllabi for each course you may take. Obtain the syllabi for all the courses you may take abroad, plus a few alternates. (If you can't obtain the full syllabus, at least find the foreign course subject code, number, title, and description.) Second, login to your Loyola study abroad application, click on the "Course Approval" tab that appears under your study abroad program's name, and follow the instructions at that page.
If you don't complete the study abroad course approval process, all of your study abroad courses will count as general electives.
Finding Abroad Courses
Please note that at some universities abroad, the campus culture is to not post the schedule of classes in advance. For those programs, students will have to officially choose and enroll in courses after arriving at the host campus. If you need to get your study abroad class schedule finalized and your courses approved by Loyola in advance of your travel, which is highly recommended, please select a study abroad program that posts class schedules online far in advance (similar to how Loyola and American universities generally operate).
Repeats
You may not enroll in any courses abroad that are similar to courses that you have previously taken at Loyola and for which you have earned credit. If in doubt, ask your academic advisor. If you take a course abroad that's too similar to a course for which you've previously earned credit at Loyola, your abroad course will be considered an "unauthorized repeat" and you won't earn additional credit.
Requests for Course Approvals while Abroad
Sometimes students end up taking a course or two that wasn't in their original study abroad plan. This may occur due to a class abroad being cancelled or a time conflict. If any of your courses do change while you're abroad, you should login to your Loyola study abroad application, click on the "Course Approval" tab that appears under your study abroad program's name, and follow the instructions on that page as soon as possible to find out what the Loyola course equivalent is. Don't take the risk of trying to get courses approved retroactively when back at Loyola once your program is over.
Rome and Faculty-Led Courses
For students studying abroad at Rome or on a Loyola faculty-led program, there is no course approval process. All courses at Rome and on Loyola faculty-led programs are Loyola courses and are treated the same as the Loyola courses taught at LSC and WTC.
Writing Intensive
Student may only fulfill Loyola's writing intensive requirement by taking a qualifying course taught at Loyola. Students may not earn Loyola writing intensive credit by taking a course taught outside of Loyola.
Additional Information
If you have any questions about study abroad course equivalencies, please
email the Director of Study Abroad
. Also, please visit the For Approved Students >
Academic Policies
page for additional information on study abroad academics.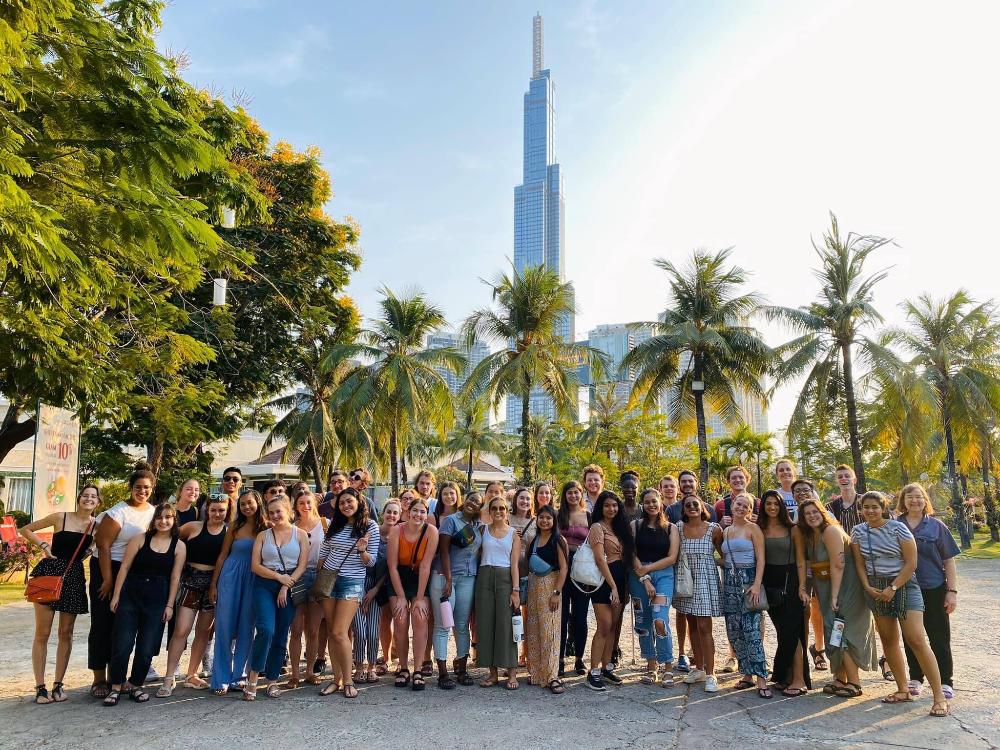 Photo by Đào Anh Tuấn.